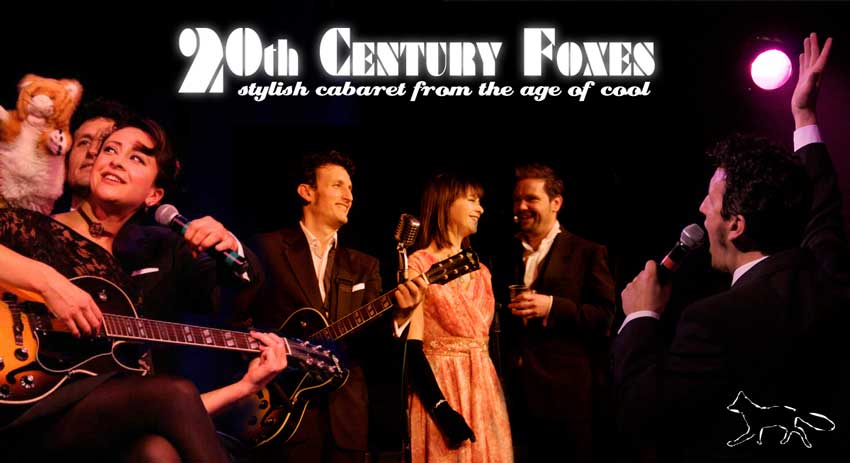 Step out of the 21st Century and into a golden age of glamour, with a lively lounge stage show that whisks you smoothly from smoky '50s New York Clubs to '60s Sunset Strip. We may even swing by Havana, Napoli or Pinewood Studios. Think classic Rat Pack but with a uniquely British twist, and expect plenty of quirks, laughter, dancing and surprises. You may well learn something, too. Foxes Cabaret offers a truly memorable night out; the sort of show rarely seen anywhere these days. Our flamboyant Foxes  roll out a marvellous menu of vintage tunes (and witty ditties) from the greatest writers and performers of the swing era. CHECK OUT OUR NEW SITE FOR INFORMATION AND VIDEOS
www.20thcenturyfoxes.com
Follow @BathCabaret              Foxes on Facebook 
UPCOMING CABARET DATES:
Friday 9 Mar 2015 

  : Foxes Trio @ Giraffe, Bath
Foxes regular vocalists, Gavin Lazarus, Natalie Brice and Tristan Darby performing a unique blend of classics and unusual songs with inventive vocal arrangements that will give you a warm glow.
Friday 22 May 2015

  20th Century Foxes TOP HAT & TAILS! @ Chapel Arts, Bath
Ring-A Ding Ding! Put on your dancing shoes, dress up in your best finery and swing along to hear some of the great tunes from stage and screen. Songs to surprise, delight and amuse from some of the greatest shows ever written. With jazz sensibilities and a rollicking sing-a-l0ng dance till you drop second half!
CABARET REVIEWS:
"A heart-warming, delightful evening, full of great songs and great banter. Gavin is a smooth, amusing compere in the style of Jools Holland – and his team of singers and musicians are first-class." - Alexander Gifford, Artistic Director, Gloucester Theatre Company
"Brilliant! Just blew me away!" - Audience, Bath 
"A treat from start to finish." - Matthew Coniam, Bath 
"Thank you for creating the nightclub I have been looking for ever since I saw my first 1940s film." - Nicky Johns, Bath 
"I have to say we loved your show! The music created a warm, nostalgic atmosphere truly reminiscent of another age… Great musicians & vocalists, particularly Gavin Lazarus. We came to Bath for a weekend break and greatly enjoyed our Saturday night out at Chapel Arts. - Lynne Curnow, Surrey
"20th Century Foxes is a most enjoyable evening – Gavin's voice is ideal for the mood of the music and he is well supported by his band.  Whatever the venue or occasion you know it will be a great evening." – Andrew Gordon
"I've waited 30 years to see a show like this. "  – anon. audience member
"That was awesome!" - Charlotte Cooke