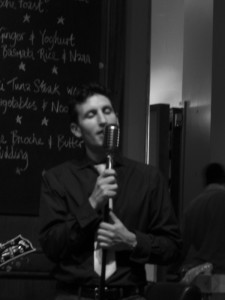 After the great success of the Anthony Newley tribute show NEWLEY DISCOVERED on 14 September. plans are now underway for a UK tour of the show, so watch this space!
The Foxes will also be performing their unstobbable brand of 'rat pack' style swing at the Hen & Chicken in Bedminster, Bristol on 16 November and have no less than 3 Christmas show dates in the diary for December. 13 Dec they will be at The Barn Theatre, Cirencester, 14 Dec at The Chapel Arts, Bath and then back at The Hen & Chicken on 15 Dec. Phew!
There is now music weekly at the wonderful Portvcale, reknowed for it's fine food and wine together with the most convivial of hosts in Antonio Bustorff so get yourself along on Thursday nights to the hottest night in town. A raft of great artists will be performing there including Dan Reid, Murph, Clara Cecilia and Gavin Lazarus.
Contact Gavin on gavinlazarus55@gmail.com or 07715 052 666 to make a booking or with any other enquiry.


October 2013
Wed 2: Gavin Lazarus Trio @ Green Park Brasserie, Bath
Thu 3: Gavin Lazarus Trio. Portvcale, Bath
Sat 5: Superfly @ The Knatchbull Arms, Stoke St Michael
Mon 7: Gavin Lazarus Trio @ Giraffe, Bath
Wed 9: Gavin Lazarus Trio @ Green Park Brasserie, Bath
Sat 12: Superfly @ The Plough, Kington Langley
Thu 17: Gavin Lazarus Trio. Portvcale, Bath
Sat 19: Superfly @ Chippenham Liberal Club, Chippenham
Thu 23: Gavin Lazarus Trio @ Green Park Brasserie, Bath
Thu 31: Gavin Lazarus Trio. Portvcale, Bath
November 2013
Sat 2: Superfly @ Warmley Community Centre, Warmley
Sat 9: Gavin Lazarus Trio @ North Cadbury Court
Thu 14: Gavin Lazarus Trio. Portvcale, Bath
Sat 16: 20th Century Foxes @ The Hen & Chicken, Bedminster, Brisol
Sat 23: Superfly @ The Great Western, Corsham
Thu 28: Gavin Lazarus Trio. Portvcale, Bath