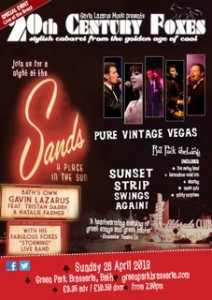 20th Century Foxes and The Green park Brasserie invite you to join us for an evening of pure vintage Vegas at 'The Sands' casino!
Step out of the 21st Century and straight to Sunset Strip as the Rat Pack knew it.
Against the iconic backdrop of The Brazz, one of Bath's great institutions, the flamboyant Foxes roll out a marvellous menu of '50s and '60s tunes from Las Vegas' heyday.
Expect plenty of surprises and laughs as classic Rat Pack style banter is given a uniquely British twist.
Book your tickets 

here 

for this fabulous event!
FOXES AT THE SANDS: 7pm, Sunday 28 April, Green Park Brasserie, Green Park Station, Green Park Road, Bath, Somerset, Ba1 1JB. Tickets from £9.50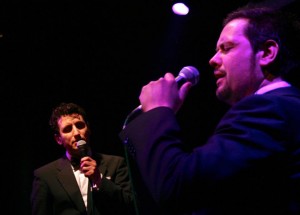 This evening of lively musical cabaret hosted by Gavin Lazarus whisks you smoothly back to those halcyon Vegas days via the strains of our swinging house band and vocal stars Tristan Darby and Natalie Farmer.
Dress to impress and enjoy a night of bon viveur, can't-sit-down-dancing, theatrics and the finest team of harmonious crooners you'll find anywhere.
It's showtime on Sunset Strip!