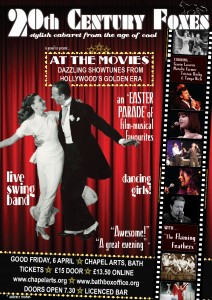 20th Century Foxes is a complete, established professional cabaret echoing the Rat-Pack style shows but with an upbeat British twist.
The whole show can be hired for an unforgettable party or corporate event.The playlist is adaptable, and can focus on a particular musical style or theme. Variety can be incorporated, from burlesque acts to sketch shows, dance displays to casino tables, cover bands to magicians.
We even have a children's cabaret show up our sleeves, featuring a wealth of kids' favourites and more.
Contact us to discuss your requirements.