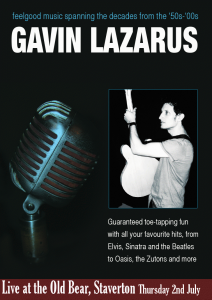 Need some live music to get the party started? I provide dynamic, quality rock, pop, soul and more to venues across southern England and Wales. Choose from a solo performance to a full band, acoustic or electric.
My extensive repertoire covers feelgood, quality song from the '50s to the noughties, featuring well-known classics plus with some more interesting, less obvious choices. There are not many cover acts who veer from The Jam straight into Sinatra, but mine often does!
I can span several decades in one show, or focus on one musical style depending on what the audience are into. The choice is yours!
I have put together some playlists below (click on the image) which demonstrate the range of songs I cover, and can be mixed and matched. Please note, these lists are merely the tip of the iceberg! Special requests are welcome too.
"Gavin Lazarus is a highly accomplished singer and entertainer. He has buckets of charisma and charm. He works well with a live band, is organised and punctual and reliable. If you were thinking of booking him, do it because he will not let you down." – Nicky Mitchell (professional singer/guitarist)
LISTEN IN! You can hear a small selection of my rock and pop covers here. Or click the image below for some sample set lists.