Blog , Upcoming Gigs
Are the days of wine and roses over?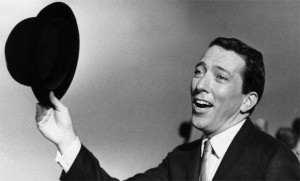 So the king of 'easy listening' has gone. I would say long live the king, but the reality is that the great Andy Williams was possibly the last of his kind.
We still have some great song stylists from his era, notably Tony Bennett, Doris Day and Vic Damone and (in spite of what you're sometimes told), there are some fine singers today, but Andy Williams was the ambassador of a style that no longer exists in the way it did during his 60s heyday.
Andy was clean, wholesome, relaxed, utterly mainstream and yet he managed to maintain a 'cool' image that most 'family' entertainers can only dream of. Family-friendly pop these days is an insipid creature. Oafish, overblown and often simpering, it is almost entirely the opposite of the Williams brand of suave understated cool.
Essentially a pop crooner rather than a jazz crooner, Andy Williams possessed some of the best pipes in the business, with which he created an instantly recognisable sound. While most of his counterparts operated comfortably in the baritone range, Williams often travelled into soaring top-tenor high notes and did so without any distinct effort or change in tone. He maintained the same tonal stability irrespective of the volume or pace he was singing at, which is unusual to say the least.
He was a consummate professional, with an easy, self-effacing charm that made him a perfect variety TV host and ensured that his show was one of the most enduring in American TV history. He was a brilliant group singer, with his skills honed in his early days performing with his brothers backing Bing Crosby, among others. His ensemble skills and vocal versatility enabled some outstanding duets on his shows not just with other crooners but also with the likes of Simon and Garfunkel.
He was also clever with his choice of material. He sang many American songbook classics, but his signature tunes went well beyond the usual canon and consequently set him apart. Among his most notable were 'Can't Get Used To Losing You', 'Music To Watch Girls By', 'Almost There' and of course his Henry Mancini classics 'Days Of Wine And Roses' and 'Moon River'. It is impossible to separate those tunes from him, which is testament to his skill and his song savvy.
For many people Andy Williams was 'Mr Christmas', renowned for his homely TV holiday specials. For others he was the wholesome All-American Dream, from a perceived golden age. For a younger generation he was a humorous father figure of suave '60s easy listening cool. Whatever the take, his unique styling is unlikely to be seen again.
For my part I will be channeling some of that style but in my own idiom in December when some of his Christmas classicssuch as 'It's The Most Wonderful Time Of The Year' surface in our Christmas cabaret. I will drink heartily to him then, though I'm not sure he would approve, entirely.