Upcoming Gigs
The night Sunset Strip swung again!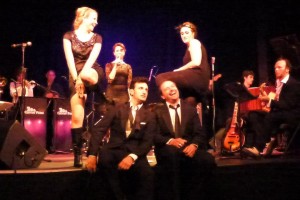 The ever-growing team at 20th Century Foxes had a fabulous evening on Friday, bringing the house down at Chapel Arts in Bath with an upbeat, fast-paced evening of vintage Vegas cabaret.
Hosted by Gavin Lazarus, the show opened with 'Music to Watch Girls By', with four vocalists delivering the song, flanked by a couple of dancers and a storming seven-piece band, who were absolutely on fire from start to finish.
This early '60s groove set the scene for a fabulous and flamboyant night of the sounds of Sunset Strip as the Rat Pack knew it – long before Elvis donned his catsuits and things got a bit too spandex. These were the heady days when Vegas was cool; when Sinatra & Co shot Ocean's Eleven at the Sands and the likes of Dean Martin and Marilyn Monroe could be found propping up its bar.
Never mind Ocean's Eleven – it was Foxes' Eleven that whisked you straight there on Friday. The band struck up Alan Jay Lerner's 'Come Back to Me' (the Robert Goulet version delivered by the polished vocals of host Gavin Lazarus, who then closed the show a couple of hours later with Sammy Davis Jr's racy version of the same number, given the full MGM treatment).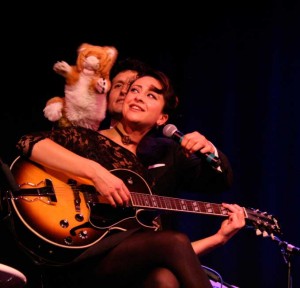 In between these two tasty slices was sandwiched a lush, fast-paced, two-and-a-half hour show oozing with joie de vivre, in which the band had as much to do with the banter as the frontmen. Unlike other cabarets, which wheel different acts on and off, this one flows together courtesy of a cohesive team of what looks like a knockabout bunch of very talented friends.
Highlights included Gavin's rapid-fire rendition of vintage comedy classic 'He's His Own Grandpa' (which only the bravest performers would attempt), backed by Natalie Farmer on piano. Equally entertaining was Natalie's Holly Golightly impression in the vocal slot, accompanied by a puppet cat; the other vocal impressions (including Nat King Cole and Dean Martin & Jerry Lewis) were pure genius. Tanya Rich delivered a standout rendition of 'Old Cape Cod' – better than the original and an evocative counterpoint to the tail-feather-shaking numbers that surrounded it; while Tristan Darby fronted a wonderfully happy take on Louis Prima's 'Just a Gigolo / I Ain't Got Nobody'.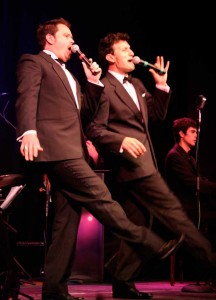 There was a spoof sponsor slot sketch, the shed-fixated saxophonist sharing his musings, and the fabulous Alfie Pugh looking the part as he pounded the shiny grand piano for over two hours. There was dancing, there were kinky boots made for walking, there was a lovely little song called 'Skin' which paid tribute to unsung body parts in general.
It was a brilliant night for all involved, with plenty of laughter, dancing, and singalongs. The Foxes were on fine form, and we can't wait for the next show – a Christmas retrofestive – on Saturday 1 December.
Viva Las Vegas!
;
VIDEO from the show: click here
NEXT SHOW: Festive Foxes – Saturday 1 December 2012 @ Chapel Arts, Bath