Upcoming Gigs
Hollywood glamour at the Spring cabaret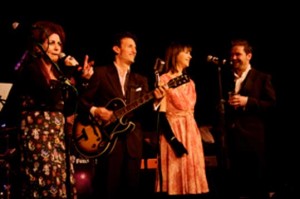 Gavin Lazarus Music's 20th Century Foxes Cabaret performed on Good Friday to a packed Chapel Arts Centre. Gavin and his three co-vocalists, Tristan Darby, Natalie Farmer and Tanya Rich, were joined by showgirls from Bristol's the Flaming Feathers dance troupe, along with the fine six-piece band that produce that rich, lush, big-band wall of sound.
The theme of the evening was 'at the Movies', showcasing a playlist of over 30 mid-century favourites from stage and screen. Wearing their Oscar-winning best, the team performed songs from the likes of Easter Parade, South Pacific, Guys and Dolls, Oliver!, Cabaret, My Fair Lady, The Jungle Book and more.
The show opened with the four vocalists gathering for a harmonious a capella version of 'Something's Coming' from West Side Story, swiftly followed by the band kicking in with a blazing  instrumental – the theme from The Pink Panther.
Following this great start, highlights (for this spectator at least) included Gavin and bassist Duncan Kingston duetting on an intimate and upbeat arrangement of 'Reviewing the Situation' from Oliver! that had the audience smiling and clapping along. Then, on a much more razzle-dazzle note, there was 'All That Jazz' from Chicago, led by vocalist Tanya flanked by two fishnet-clad showgirls.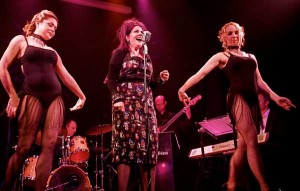 Gavin's interpretations of 'Stranger in Paradise' (Kismet) and 'Pure Imagination' (Willy Wonka) brought the hairs on the backs of necks standing to attention, while resident balladeer Tristan gave some welly to Matt Munro's 'Born Free' and 'The Shadow of Your Smile' (The Sandpiper).
The second half opened with Gavin's acoustic version of 'On Days Like These' from The Italian Job, accompanied only by his guitar, before an upbeat duet with Tristan, 'Don't Rain on My Parade' (Funny Girl) led into a medley of Western musical favourites with Natalie, Tanya and Gavin sharing vocals. 'The Deadwood Stage' and 'The Black Hills of Dakota' (Calamity Jane), 'I Talk To The Trees' (Paint Your Wagon) and 'Spring, Spring, Spring' (Seven Brides for Seven Brothers) got the audience humming happily along.
The Flaming Feathers girls returned for a storming full-band rendition of 'Mame', with a specially-prepared dance routine featuring plenty of high kicks and glitz.
Then My Fair Lady fans were in for a treat with a trio of favourite numbers from the famous Audrey Hepburn film. By the time Natalie returned to stage for 'Get Happy' (Judy Garland's Summer Stock highlight), feet were itching to dance, and by the time the show closed with some much-loved jump-jive numbers from The Jungle Book, there were plenty of folk dancing with joyful abandon.
We've had some great feedback, with one audience member saying 'I've waited 30 years to see a show like this' and another booking the cabaret for their Jubilee celebrations.
Meanwhile, there are some positive changes afoot for 20th Century Foxes cabaret, and we'll be working hard over the next few months to tighten up a few bits and bobs and expand its dazzling vintage repertoire. So watch this space for upcoming performance dates!