Blog
1962: The Beatles revived the music scene. Who can save us now?
50 years ago this week a brave record producer took a punt on The Beatles and made music history.
Singer-songwriter Gavin Lazarus reflects on their influence, and the woes that face unsigned acts today
Pretty much every muso – and many others besides – know the well-worn story of a determined young band manager hawking his raw Liverpudlian group to London's music moguls, only to receive a main course of rejection to go with the starter of derision and side order of scorn ("Guitar bands are over," said Decca at the time) that initially greeted the greatest and most popular rock band in musical history.
This week marks the 50th anniversary of the Beatles' last-ditch reprieve, courtesy of EMI's specialist Parlophone label, which saw George Martin take a punt on the band which frankly even he thought were pretty average.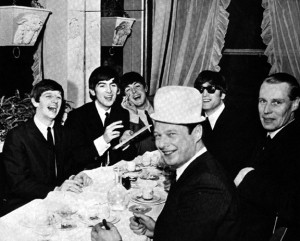 George Martin was at that time himself a fringe player in the pop fraternity, trying in vain to rival his EMI stablemate Norrie Paramour (of the Columbia label) who was scoring hits left, right and centre, notably with Cliff Richard and the Shadows.
Sure, Martin had enjoyed top 10 hits with superb crooner Matt Monroe and briefly with Jim Dale (later of Carry On and Broadway fame) but most of his successful work had been in making comedy records with such greats as The Goons, Peter Sellers, Rolf Harris, Flanders & Swan and Charlie Drake. Even George Martin did not foresee the tidal wave that would be created by his new 'unfashionable' guitar band.
Of course his lack of rock credentials was, I think, a vital ingredient in The Beatles' sound. They all just made it up as they went along, and the result was the fresh, brash, inspiring new sound that revolutionised and revitalised music in much the same way that rock n' roll had done in the '50s – and to an extent that still resounds today.
There are so many great studio stories from the early recording sessions of 1962. A disgruntled Ringo Starr fighting to be accepted by Martin as a good enough drummer for their recordings; the lacklustre rendition of 'How Do You Do It', replete with John's ironic 'Oooh la la's; and my favourite – the moment that Martin realised his larking proteges were actually capable of writing solid-gold chart toppers, when they rollocked their way through the still-brilliant 'Please Please Me'.
"We have X-Factor and a raft of identical shows, which produce exactly the same calibre of music and artist. The Beatles changed all that back then. The question is who can save us now?"
Ultimately, The Beatles' influence is undisputed; the high water mark of their wonderfully eclectic output probably being the Rubber Soul/Revolver period, which has coloured the sound of just about every proper guitar band since.
Has the music industry changed significantly from that day in May 1962, when a head studio producer took a punt on a charismatic band of no obvious promise?
Well yes. In many ways the industry is unrecognisable from the burgeoning, makeshift, 'let's do the show right here' world of 1962, but one thing remains the same. Every day, decision makers at record labels both large and small pass over or reject talented artists desperate to record and promote their music to a wider audience.
As in 1962, provincial acts outside London still struggle to be heard, and scores of highly original and hugely talented artists go to seed in every town, while the airwaves are saturated with hackneyed dross contrived by producers and promoters who cannot sing a note, never mind write one.
The sad truth is that most demos submitted to record labels or agents or radio producers are unceremoniously binned. The lucky ones get a 20-second airing. Ultimately your success is down to who you know, how fashionable your sound is and – crucially – how much money your pluggers (if you're well-connected enough to have such things) are prepared to bung at it. These factors alone dictate how successful your overtures to the mighty music moguls are.
Of course that's another thing that remains unaltered; the big producers know as little now as they did then. Simon Cowell is no better at spotting musical talent than my dad (who is admittedly not bad…) and like most producers now and in early 1962, he makes safe, unremarkable, 'dot-to-dot' hits which both ape and sustain vacuous musical trends.
Before The Beatles, pop music was in the post-Presley hangover of watered-down rock n' roll. Presley had been drafted and then sidetracked by Hollywood, Buddy Holly and Eddie Cochran had died, Jerry Lee Lewis and Chuck Berry were both banged up, and Little Richard became a preacher! Meanwhile the music industry quietly tamed the music and served up a lukewarm alternative, where the producer was king and the artist was an unimportant transitory puppet.
And today? We have X-Factor and a raft of identical shows, which produce exactly the same calibre of music and artist. The Beatles changed all that back then. The question is: who can save us now?