Upcoming Gigs
20th Century Foxes At The Sands: Sunset Strip Swings Again!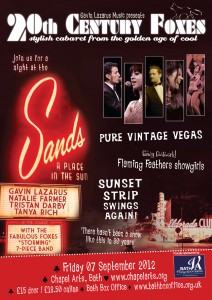 20th Century Foxes invite you to join us for an evening of pure vintage Vegas at 'The Sands' casino!
Step out of the 21st Century and straight to Sunset Strip as the Rat Pack knew it. This evening of lively musical cabaret whisks you smoothly back to those halcyon Vegas days via the strains of our swinging house band and talented team of singers and dancers.
The flamboyant Foxes roll out a marvellous menu of '50s and '60s tunes from Las Vegas' heyday. Expect plenty of surprises and laughs as classic Rat Pack banter is given a uniquely British twist.
Get your tickets at The Chapel Arts or The Bath Box Office
Also making an appearance are Bristol's Flaming Feathers showgirls, bringing their slick Vegas razzle-dazzle to the stage.
Dress to impress and enjoy a night of bon viveur, can't-sit-down-dancing, showgirls, cocktails, theatrics and the finest team of harmonious crooners you'll find anywhere. It's showtime on Sunset Strip!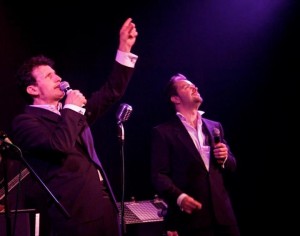 What the punters say:
– "I've waited 30 years to see a show like this"
– "A memorable night out"
– "Awesome!"
This evening is brought to you by Gavin Lazarus Music in proud association with The Bath Vintage & Antiques Market