Upcoming Gigs
Spring cabaret – to the movies!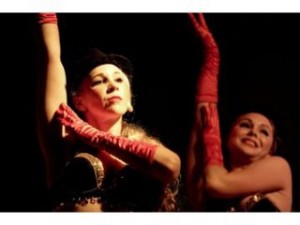 With so much going on, the Spring Cabaret has come upon us very quickly, but we're just about set to raise the curtain on what we hope will be our best cabaret yet. Tomorrow night!
There's been much chewing of fingernails and pacing of rooms here at Chez Lazarus, as we pull together the vast to-do list against the impending deadline. There's a lot to think about. But between us all we're slowly ticking off like vocal rehearsals, equipment hire, Tweeting, press releases, liasing with showgirls (the fun part), finalising and printing the set lists, staging, scripting and lighting, thinking up table decorations, setting a quiz, and all sort of other little challenges.
We're almost there. So tomorrow night we will be rolling out the red carpet for a cabaret that whisks you out of the 21st Century and off to the golden era of Hollywood, as 20th Century Foxes Cabaret rolls out a menu of favourites from stage and screen, with special guest appearance by showgirl favourites the Flaming Feathers.
Expect treats from the likes of Chicago, Easter Parade, South Pacific, Paint Your Wagon, Oliver!, My Fair Lady, The Jungle Book, High Society and more… with plenty of surprises in store and some beautiful harmony arrangements.
It's all served up with plenty of bon viveur, a storming six-piece swing band, banter & backchat, can't-sit-down dancing and a harmonious team of the finest crooners you'll find, well, anywhere.
Get your tickets on the door (£15) or here (discount for advance booking). Doors open at 7.30 – see you there for a cheeky vintage cocktail or two!