Upcoming Gigs
Gavin Lazarus & gourmet grub: a dream duo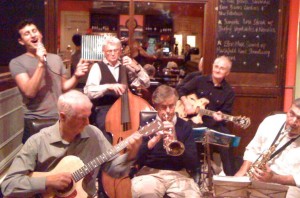 Gavin's weekly residency at the Green Park Brasserie in Bath has earned him a mention in national food magazine Flavour.
The Brasserie is an award-winning restaurant, deemed one of the best in Bath, and the home of live jazz in the city. It's one of very few places in town where you can dine to live crooning, and Gavin's regular appearances here have moved diners to get up and dance, stay on for more drinks and even propose to each other.
The magazine's reviewer Melissa Bleaze took a 'joyful jaunt' to the GPB and dined to the Gavin Lazarus Quartet's smooth swing. Sounds like it all went pretty well – you can read the article here.