Upcoming Gigs
The Bell is dead; long live the Bell… A rhythm refuge reborn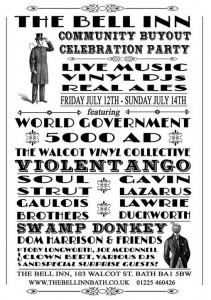 If the balmy heatwave we're enjoying has filled your cup of goodness, then get yourself down to Walcot Street in Bath this weekend to The Bell's community buyout celebrations, and let said cup runneth over!
I am proud to be part of a fantastic lineup booked to entertain the revellers, and will be swinging and jumping the joint this Sunday 14 July with a star quintet featuring foremost flumpeter Dan Reid, the singing guitar of Bell favourite Murph, the thumping bass grooves of Wade Edwards and the astonishing pyrotechnics of celebrated stickman Rob Brian.
Rewind to March 2, 2013 when the Gavin Lazarus Quartet performed at the 'Saved By The Bell' community buyout share promo event. As successful as the event was, the fundraising figures weren't stacking up too well at that stage.
The total raised was well short of the target needed to keep one of Bath's most vital institutions alive. With two weeks to go till deadline, predictions that such an initiative was ultimately doomed to failure were hanging heavy in the air.
But The Bell is about people power and creative inspiration – and those two forces came together brilliantly in the shape of the pub's team, which got on the blower to all and sundry, tore off our cloak of apathy and duly delivered a miracle!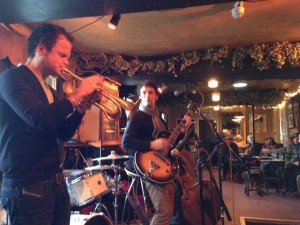 I am a relative newcomer in the wonderful, music-soaked world of the Bell (my first turn on its famous stage was c.2008 at a Beatles tribute day), but my much lovelier other half, Anna, is proper old school, having been a popular barmaid there for the best part of a decade. To this day she is recognised wherever she goes as a Bell pint-puller.
As a musician and an ex-Bell barmaid, and despite our poverty (musician's wages and thousands of children, both my fault I'm afraid), it was an easy decision for us to snap up some Bell shares, and we are very proud to be a small part in such a worthy enterprise.
Thanks to the Bell's brilliant team and a lot of wonderful folks out there, all of whom I salute, the bohemian traditions of the Bell will continue. Long live its eclectic feast of quality live music, from far-flung corners of the world to the most local of local, nurtured in the most convivial, un-corporate, people-powered backdrop… Oh and let's not forget its bloody fine ales!
If that's not worth a weekend of celebrations then I don't know what is!
See you there my lovelies.