Upcoming Gigs
Gavin Lazarus on iTunes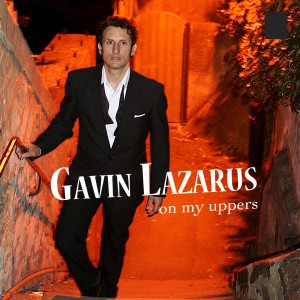 The Gavin Lazarus EP On My Uppers is out now on iTunes, as well as other leading online music retailers.
So, wherever you are in the world, preview and download this exciting new original collection of swing-inspired songs.
The EP's title is a reference to the artist's impoverished condition. At the time of recording, the soles of Gavin's shoes had literally worn right through. We've since raised enough dosh for a visit to the cobblers – but that's about it, so every download will help!
You can buy a Gavin Lazarus song on iTunes for less than a bottle of pop (which is criminal, actually, considering the sheer hard work that's gone into recording this), and you're guaranteed a much more enjoyable and long-lasting experience than even Coca Cola can give you. There can't be a bigger bargain than that.
Track 1, Sunshine, is a determinedly optimistic, feelgood modern jazz tune with swing breaks – perfect for summer and a poke in the eye for pessimism. It may well find itself sampled into an Ibizan club track one of these days. Track 2, Do You Know, is a lively, danceable, swingable love song.
It Could Have Been Me is a beautiful, accessible ballad about the tragedy of missed opportunity and unfulfilled potential, with echoes of Nat King Cole. In fact, the song came about late one night over a glass or two of red wine, when Gavin was roundly challenged to 'write a Nat King Cole song'. Gavin first played the song the following morning.
The High Cost of Loving's stomping, un-sit-down-able  New Orleansy blues riff belies the tension in the story it tells – but hey, let's face the music and dance, as they say.
And In the Face of Romance combines soaring vocals and upmarket swing to uplifting effect.
Have a listen on  iTunes, and let us know what you think.