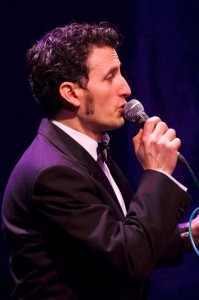 Gavin Lazarus is a dynamic professional singer specialising in jazz and swing, who performs regularly around Bath and southern England with his band. He provides quality live music for weddings, corporate entertainment, parties and special occasions.
Combining a powerful heldentenor voice, engaging stage presence and vast repertoire, Gavin Lazarus is an unusual package. As well as being a fine singer-songwriter, guitarist, cabaret host and showman he is a human jukebox. Rat Pack or The Beatles, dining jazz or storming big-band, Gavin Lazarus Music can provide it.
Gavin can be booked as a solo act, or as part of a duo, trio, quartet, up to a big band. He also performs tributes to the likes of the Rat Pack, 50s Elvis, Al Bowlly, Buddy Holly and more. Then there's his exciting, retro-flavoured cabaret show 20th Century Foxes…
"Gavin performed at our corporate event at London Zoo. He was excellent, providing real stage presence and crowd engagement. He is a genuinely very talented performer and really got the crowd going with appropriate songs at the appropriate times. I was 100% pleased with the show. I will definitely book him again." – Deloitte, London
When it comes to pure showmanship, Gavin Lazarus is a favourite with audiences and is experienced at entertaining audiences from crowds of thousands, down to the last remaining couple drinking at the bar on a lazy night. Whatever the size, situation or demographic, you'll get the same engaging quality.
We can co-ordinate a tailor-made live music and entertainment package for your event. From burlesque and dancing girls to casino tables, from PA system to compere and even venue decoration, Gavin Lazarus Music works with the South West's best performers and suppliers to produce an event your guests will remember.
Please look around this site to find our more about our live music and entertainment services. We have sample 'menus', audio and links to Gavin's performances on iTunes and YouTube. We can even tailor the set list to suit you. Just compile a list of songs you want, and give us a call.
"I was particularly impressed by his range and breath control over some of the longer phrases – Sinatra would have been proud." – Dave Aylott, BBC Radio 2
Satisfied clients include